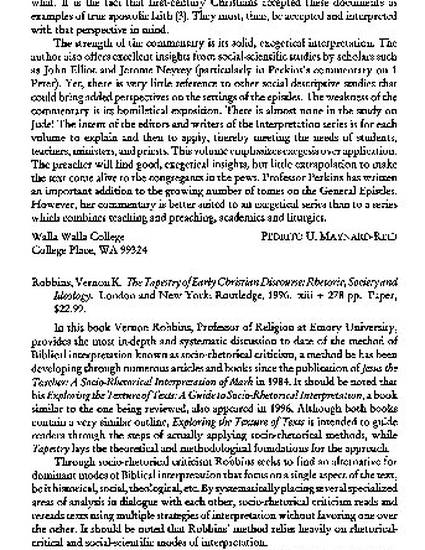 Article
The Tapestry of Early Christian Discourse: Rhetoric, Society and Ideology [Review]
Andrews University Seminary Studies
Document Type
Book Review
Publication Date
10-1-1998
Abstract
In this book Vernon Robbins, Professor of Religion at Emory University, provides the most in-depth and systematic discussion to date of the method of Biblical interpretation known as socio-rhetorical criticism, a method he has been developing through numerous articles and books since the publication of Jesus the Teacher: A Socio-Rhetorical Interpretation of Mark in 1984. It should be noted that his Exploring the Texture of Texts: A Guide to Socio-Rhetorical Interpretation, a book similar to the one being reviewed, also appeared in 1996. Although both books contain a very similar outline, Exploring the Texture of Texts is intended to guide readers through the steps of actually applying socio-rhetorical methods, while Tapestry lays the theoretical and methodological foundations for the approach.
Citation Information
Dupertuis, R. R. (1998). [Review of the book
The tapestry of early Christian discourse: Rhetoric, society and ideology
, by V. K. Robbins].
Andrews University Seminary Studies
, 36, 306-308.