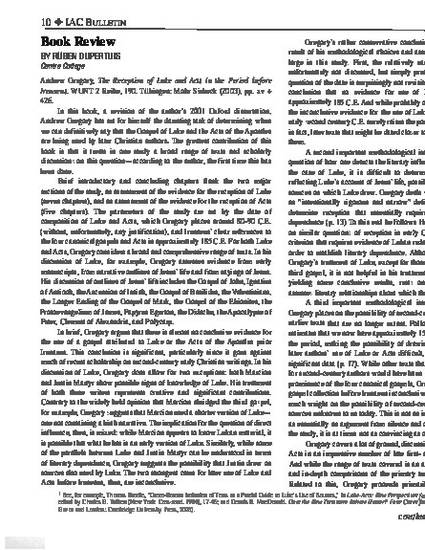 Article
The Reception of Luke and Acts in the Period Before Irenaeus [Review]
Bulletin of the Institute for Antiquity and Christianity
Document Type
Book Review
Publication Date
7-1-2005
Abstract
In this book, a revision of the author's 2001 Oxford dissertation, Andrew Gregory has set for himself the daunting task of determining when we can definitively say that the Gospel of Luke and the Acts of the Apostles are being used by later Christian authors. The greatest contribution of this book is that it treats in one study a broad range of texts and scholarly discussion on this question–according to the author, the first time this has been done.
Citation Information
Dupertuis, R. (2005). [Review of the book
The reception of Luke and Acts in the period before Irenaeus
, by A. Gregory].
Bulletin of the Institute for Antiquity and Christianity
, 32, 10-11. Retrieved from http://ccdl.libraries.claremont.edu/cdm/landingpage/collection/bia