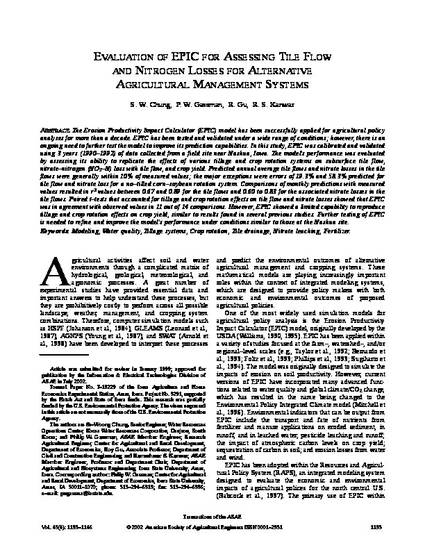 Article
Evaluation of EPIC for Assessing Tile Flow and Nitrogen Losses for Alternative Agricultural Management Systems
Transactions of the ASAE
Publication Version
Published Version
Publication Date
1-1-2002
Abstract
The Erosion Productivity Impact Calculator (EPIC) model has been successfully applied for agricultural policy analyses for more than a decade. EPIC has been tested and validated under a wide range of conditions; however, there is an ongoing need to further test the model to improve its prediction capabilities. In this study, EPIC was calibrated and validated using 3 years (1990–1992) of data collected from a field site near Nashua, Iowa. The model's performance was evaluated by assessing its ability to replicate the effects of various tillage and crop rotation systems on subsurface tile flow, nitrate–nitrogen (NO3–N) loss with tile flow, and crop yield. Predicted annual average tile flows and nitrate losses in the tile flows were generally within 10% of measured values; the major exceptions were errors of 19.3% and 58.3% predicted for tile flow and nitrate loss for a no–tilled corn–soybean rotation system. Comparisons of monthly predictions with measured values resulted in r2 values between 0.67 and 0.89 for the tile flows and 0.60 to 0.83 for the associated nitrate losses in the tile flows. Paired t–tests that accounted for tillage and crop rotation effects on tile flow and nitrate losses showed that EPIC was in agreement with observed values in 11 out of 14 comparisons. However, EPIC showed a limited capability to reproduce tillage and crop rotation effects on crop yield, similar to results found in several previous studies. Further testing of EPIC is needed to refine and improve the model's performance under conditions similar to those at the Nashua site.
Copyright Owner
American Society of Agricultural and Biological Engineers
File Format
application/pdf
Citation Information
Se-Woong Chung, Philip W. Gassmann, Roy R. Gu and Rameshwar S. Kanwar. "Evaluation of EPIC for Assessing Tile Flow and Nitrogen Losses for Alternative Agricultural Management Systems"
Transactions of the ASAE
Vol. 45 Iss. 4 (2002) p. 1135 - 1146
Available at: http://works.bepress.com/rskanwar/72/