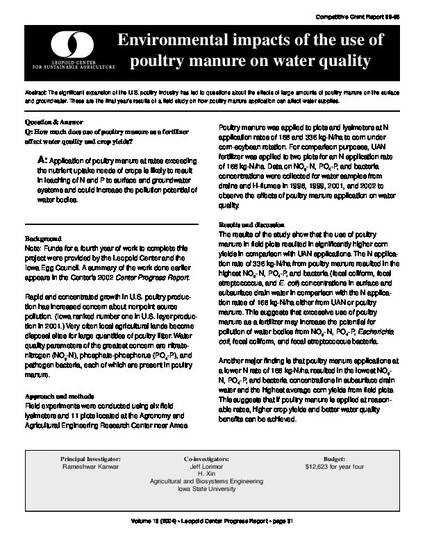 Unpublished Paper
Environmental impacts of use of poultry manure on water quality
Leopold Center Completed Grant Reports
Abstract
The significant expansion of the U.S. poultry industry has led to questions about the effects of large amounts of poultry manure on the surface and groundwater. These are the final year's results of a field study on how poultry manure application can affect water supplies.
Key Question
How much does use of poultry manure as a fertilizer affect water quality and crop yields?
Findings
Application of poultry manure at rates exceeding the nutrient uptake needs of crops is likely to result in leaching of N and P to surface and groundwater systems and could increase the pollution potential of water bodies.
Principal Investigator(s)
Rameshwar Kanwar
Co-Investigator(s)
Jeff Lorimor, H. Xin
Year of Grant Completion
2004
Citation Information
Rameshwar S. Kanwar, Jeffery C. Lorimor and Hongwei Xin. "Environmental impacts of use of poultry manure on water quality" (2004)
Available at: http://works.bepress.com/rskanwar/37/