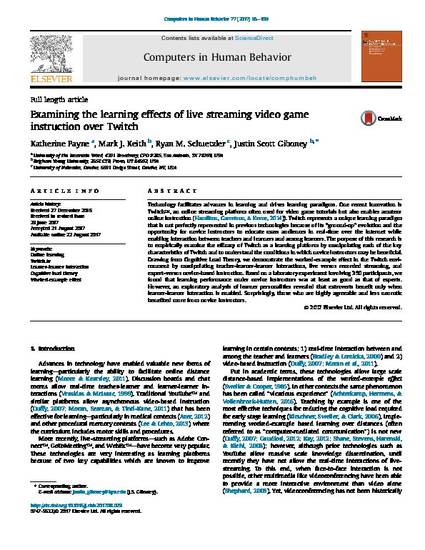 Article
Examining the learning effects of live streaming video game instruction over Twitch
Computers in Human Behavior
Publication Date
8-22-2017
Abstract
Technology facilitates advances in learning and drives learning paradigms. One recent innovation is Twitch™, an online streaming platform often used for video game tutorials but also enables amateur online instruction (Hamilton, Garretson, & Kerne, 2014)). Twitch represents a unique learning paradigm that is not perfectly represented in previous technologies because of its "ground-up" evolution and the opportunity for novice instructors to educate mass audiences in real-time over the Internet while enabling interaction between teachers and learners and among learners. The purpose of this research is to empirically examine the efficacy of Twitch as a learning platform by manipulating each of the key characteristics of Twitch and to understand the conditions in which novice instructors may be beneficial. Drawing from Cognitive Load Theory, we demonstrate the worked-example effect in the Twitch environment by manipulating teacher-learner-learner interactions, live versus recorded streaming, and expert-versus novice-based instruction. Based on a laboratory experiment involving 350 participants, we found that learning performance under novice instructors was at least as good as that of experts. However, an exploratory analysis of learner personalities revealed that extroverts benefit only when learner-learner interaction is enabled. Surprisingly, those who are highly agreeable and less neurotic benefited more from novice instructors.
Citation Information
Katherine Payne, Mark J. Keith, Ryan M. Schuetzler and Justin Scott Giboney. "Examining the learning effects of live streaming video game instruction over Twitch"
Computers in Human Behavior
Vol. 77 (2017) p. 95 - 109
Available at: http://works.bepress.com/rschuetzler/6/