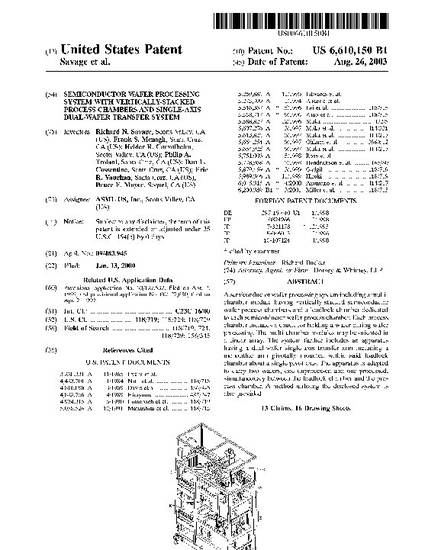 Other
Semiconductor Wafer Processing System With Vertically-Stacked Process Chambers and Single-Axis Dual-Wafer Transfer System
United States Patent Number: 6,610,150
Publication Date
8-26-2003
Abstract
A semiconductor wafer processing system including a multi-chamber module having vertically-stacked semiconductor wafer process chambers and a loadlock chamber dedicated to each semiconductor wafer process chamber. Each process chamber includes a chuck for holding a wafer during wafer processing. The multi-chamber modules may be oriented in a linear array. The system further includes an apparatus having a dual-wafer single-axis transfer arm including a monolithic arm pivotally mounted within said loadlock chamber about a single pivot axis. The apparatus is adapted to carry two wafers, one unprocessed and one processed, simultaneously between the loadlock chamber and the process chamber. A method utilizing the disclosed system is also provided.
Citation Information
Richard N. Savage, Frank S. Menagh, Helder R. Carvalheira, Philip A. Troiani, et al.. "Semiconductor Wafer Processing System With Vertically-Stacked Process Chambers and Single-Axis Dual-Wafer Transfer System"
United States Patent Number: 6,610,150
(2003)
Available at: http://works.bepress.com/rsavage/13/