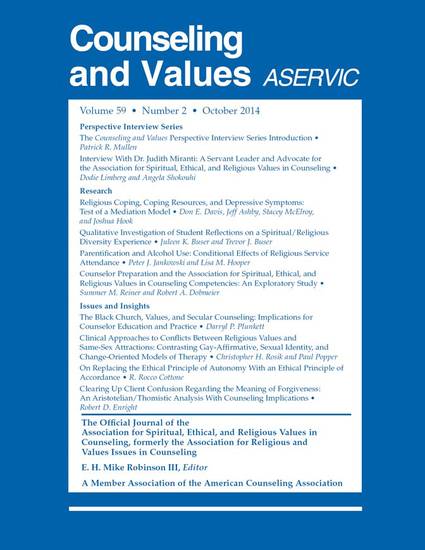 Article
On Replacing the Ethical Principle of Autonomy with an Ethical Principle of Accordance
Counseling and values (2014)
Abstract
The author defines and critiques the ethical principle of autonomy. As a concept, autonomy is most aligned with paradigms of counseling that focus on the individual as a psychological entity with moral agency. It is less consistent with frameworks that focus on relationships philosophically and in practice. Autonomy is paradoxical, because it is a consensually defined principle imposed on counseling practice while denying counselors a choice in its application. The author suggests accordance as an alternative ethical principle. Accordance is consistent with relational paradigms of practice and the other relationship‐focused ethical principles in counseling. Accordance fully contextualizes individual responsibility and choice.
Publication Date
January 10, 2014
DOI
10.1002/j.2161-007X.2014.00054.x
Citation Information
R. Rocco Cottone. "On Replacing the Ethical Principle of Autonomy with an Ethical Principle of Accordance"
Counseling and values
Vol. 59 Iss. 2 (2014) p. 238 - 248
Available at: http://works.bepress.com/rrocco-cottone/2/