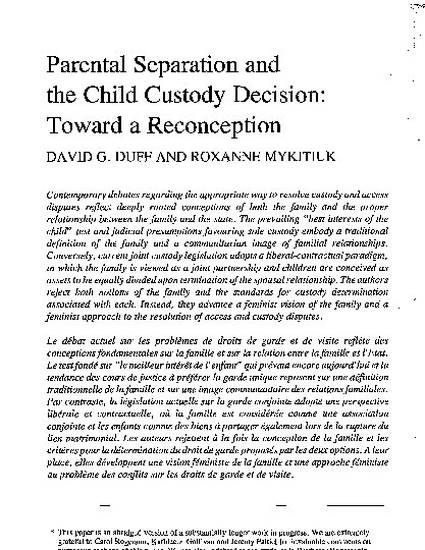 Article
Parental Separation and the Child Custody Decision: Toward a Reconception
University of Toronto Faculty of Law Review
Publication Date
1-1-1989
Subjects
Parental Separation; Child Custody
Abstract
Contemporary debates regarding the appropriate way to resolve custody and access disputes reflect deeply rooted conceptions of both the family and the proper relationship between the family and the state. The prevailing "best interests of the child" test and judicial presumptions favouring sole custody embody a traditional definition of the family and a communitarian image of familial relationships.Conversely, current joint custody legislation adopts a liberal-contractual paradigm, in which the family is viewed as a joint partnership and children are conceived as assets to be equally divided upon termination ofthe spousal relationship. The authors reject both notions of the family and the standards for custody determination associated with each. Instead, they advance a feminist vision of the family and a feminist approach to the resolution of access and custody disputes.
Citation Information
David G Duff & Roxanne Mykitiuk, "Parental Separation and the Child Custody Decision: Toward a Reconception" (1989) 47:3 UT Fac L Rev 874.