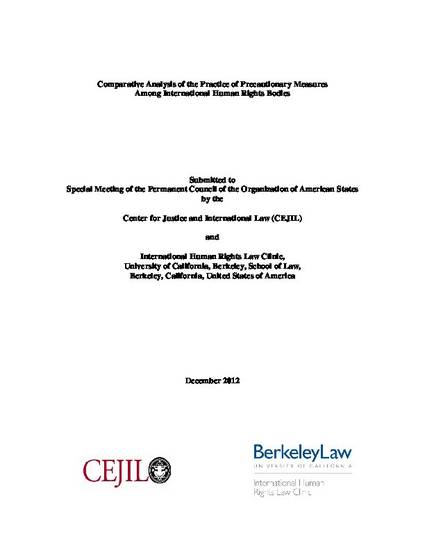 Unpublished Paper
Comparative Analysis of the Prac tice of Precautionary Measures Among International Human Rights Bodies
Special Meeting of the Permanent Council of the Organization of American States (2012)
Abstract
This paper presents findings of comparative legal research on precautionary measures issued by human rights bodies to contribute to a public discussion of proposed reforms to the Inter-American Commission on Human Rights (IACHR). Commonly referred to as "precautionary," "provisional," or "interim" measures (hereinafter "precautionary measures"), these urgent responses direct States to protect rights holders from imminent risk of irreparable damage. Human rights institutions have used precautionary measures since 1945, as a technique to
address urgent human rights situations. Today, all international human rights bodies have the authority and have adopted procedures to issue such measures.
Publication Date
December, 2012
Citation Information
Laurel E. Fletcher, Roxanna Altholz, International Human Rights Law Clinic, Berkeley Law and Center for Justice and International Law (CEJIL). "Comparative Analysis of the Prac tice of Precautionary Measures Among International Human Rights Bodies"
Special Meeting of the Permanent Council of the Organization of American States
(2012)
Available at: http://works.bepress.com/roxanna_altholz/5/