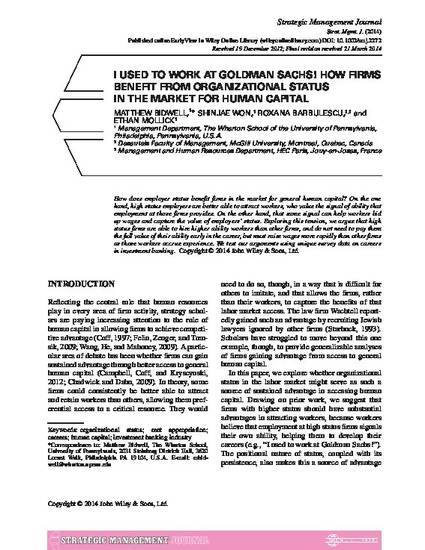 Article
I used to work at Goldman Sachs! How organizational status creates rents in the market for human capital
Strategic Management Journal (2014)
Abstract
We contribute to the literature on how human capital can contribute to competitive advantage by exploring whether having high status in the labor market allows employers to achieve rents in acquiring general human capital. Working for a high status employer provides workers with a valuable signal of ability which helps them to secure better jobs in the future. We argue that higher status employers can appropriate some of those advantages by attracting better workers without having to pay any more. We test these arguments using two unique datasets based on a career survey and internal investment banking personnel data. We find that higher status firms are able to recruit better workers without paying higher wages early in the career. We also show that these advantages diminish as workers become more senior and the value of signaling their ability declines.
Publication Date
May, 2014
Citation Information
Matthew Bidwell, Shinjae Won, Roxana Barbulescu and Ethan Mollick. "I used to work at Goldman Sachs! How organizational status creates rents in the market for human capital"
Strategic Management Journal
Vol. Published online Early View (2014)
Available at: http://works.bepress.com/roxana_barbulescu/6/