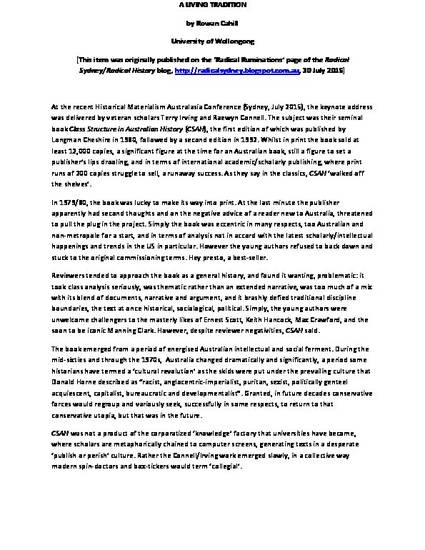 Article
A Living Tradition
Radical Sydney/Radical History blog, 'Radical Ruminations' page (2015)
Abstract
Discussion of the seminal work by R. W. Connell and T. H. Irving 'Class Structure in Australian History' (Longman Cheshire, 1980, 1992), and of the tradition of Marxist and class analysis in Australian intellectual life.
Keywords
Free U,
Free University,
Raewyn Connell,
Thomas Barnes,
Terry Irving,
Tom O'Lincoln,
Rowan Cahill,
Rick Kuhn,
Damien Cahill,
historical materialism,
Marx,
Marxism,
class,
class analysis,
class structure
Publication Date
July 30, 2015
Citation Information
Rowan Cahill. "A Living Tradition"
Radical Sydney/Radical History blog, 'Radical Ruminations' page
(2015)
Available at: http://works.bepress.com/rowan_cahill/213/