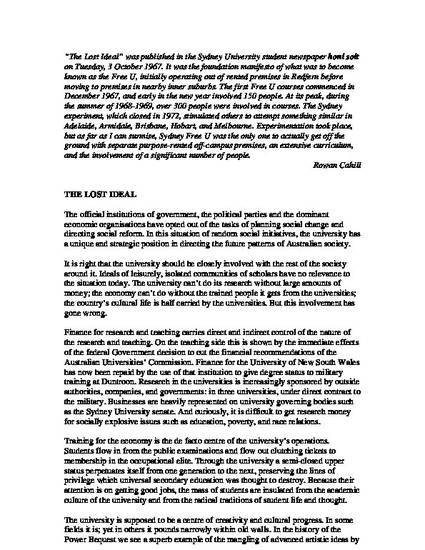 Article
The Lost Ideal
honi soit (1967)
Abstract
Authored alphabetically by R. Cahill, R. Connell, B. Freeman, T. Irving, and B. Scribner, "The Lost Ideal" was published in the Sydney University student newspaper 'honi soit' on Tuesday, 3 October 1967. It was the foundation manifesto of what was to become known as the Free U, initially operating out of rented premises in Redfern (Sydney) before moving to premises in nearby suburbs. The first Free U courses commenced in December 1967, and early in the new year involved 150 people. At its peak, during the summer of 1968-1969, over 300 people were involved in courses. The Sydney experiment, which closed in 1972, stimulated others to attempt something similar in Adelaide, Armidale, Brisbane, Hobart, and Melbourne. Experimentation took place, but the Sydney Free U was the only one to actually get off the ground with separate purpose-rented off-campus premises, an extensive curriculum, and the involvement of a significant number of people. This foundation document is included in C. Turney (editor), 'Sources in the History of Australian Education 1788-1970' [Angus & Robertson, Sydney, 1975].
Keywords
Free U,
Sydney University,
Rowan Cahill,
Raewyn Connell,
Terry Irving,
Brian Freeman,
Bob Scribner,
Redfern,
1960s
Publication Date
October 3, 1967
Citation Information
Rowan Cahill, R Connell, B Freeman, T Irving, et al.. "The Lost Ideal"
honi soit
(1967)
Available at: http://works.bepress.com/rowan_cahill/200/