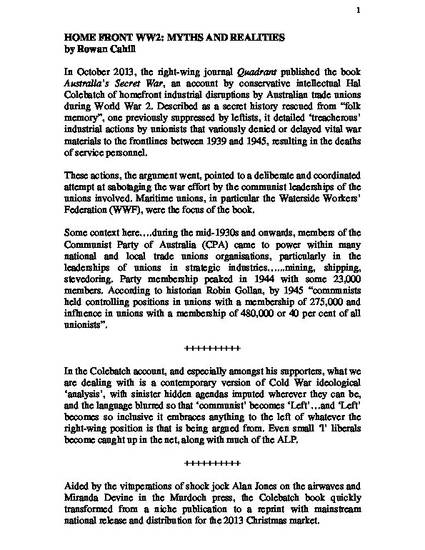 Presentation
Home Front WW2: Myths and Realities
Alex Macdonald Lecture, 2014 (Brisbane ASSLH) (2014)
Abstract
Beginning with recent attempts by conservative interests to depict some Australian trade unions as having acted in 'traitorous' ways during World War 2 by engaging in activities that variously sabotaged the home front war effort, this lecture examines the claims, and the myth of the social solidarity of Australian society 1939-45.
Keywords
Rowan Cahill,
Alex Macdonald,
World War 2,
home front,
treason,
traitors,
Hal Colebatch,
Seamen's Union of Australia
Publication Date
May 20, 2014
Citation Information
Rowan Cahill. "Home Front WW2: Myths and Realities"
Alex Macdonald Lecture, 2014 (Brisbane ASSLH)
(2014)
Available at: http://works.bepress.com/rowan_cahill/180/