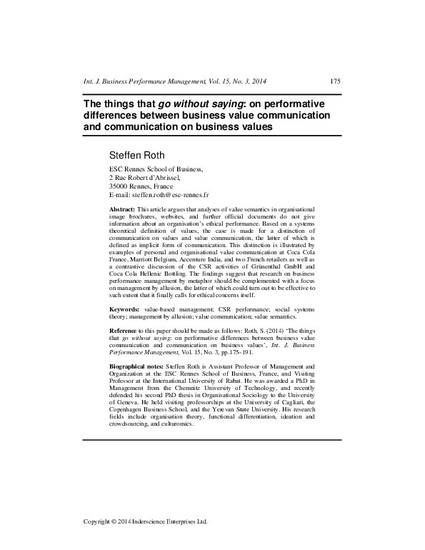 Article
The things that go without saying. On performative differences between business value communication and communication on business values
International Journal of Business Performance Management (2014)
Abstract
This article argues that analyses of value semantics in organisational image brochures, websites, and further official documents do not give information about an organisation's ethical performance. Based on a systems theoretical definition of values, the case is made for a distinction of communication on values and value communication, the latter of which is defined as implicit form of communication. This distinction is illustrated by examples of personal and organisational value communication at Coca Cola France, Marriott Belgium, Accenture India, and two French retailers as well as a contrastive discussion of the CSR activities of Grünenthal GmbH and Coca Cola Hellenic Bottling. The findings suggest that research on business performance management by metaphor should be complemented with a focus on management by allusion, the latter of which could turn out to be effective to such extent that it finally calls for ethical concerns itself.
Keywords
value-based management; CSR performance; social systems theory; management by allusion; value communication; value semantics
Citation Information
Steffen Roth. "The things that go without saying. On performative differences between business value communication and communication on business values"
International Journal of Business Performance Management
Vol. 15 Iss. 3 (2014)
Available at: http://works.bepress.com/roth/3/