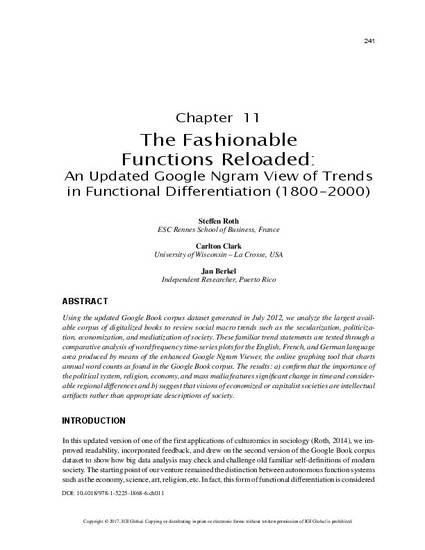 Contribution to Book
The Fashionable Functions Reloaded: An Updated Google Ngram View of Trends in Functional Differentiation (1800-2000)
Research Paradigms and Contemporary Perspectives on Human-Technology Interaction (2017)
Abstract
Using the updated Google Book corpus dataset generated in July 2012, we analyze the largest available corpus of

digitalized

books to review social macro trends such as the secularization, politicization,

economization

, and

mediatization

of society. These familiar trend statements are tested through a comparative analysis of word frequency time-series plots for the English, French, and German language area produced by means of the enhanced Google Ngram Viewer, the online graphing tool that charts annual word counts as found in the Google Book corpus. The results: a) confirm that the importance of the political system, religion, economy, and mass media features significant change in time and considerable regional differences and b) suggest that visions of economized

or

capitalist societies are intellectual artifacts rather than appropriate descriptions of society. 
Keywords
Google Ngram,
Google Books,
Capitalism,
Secularization,
Social Differentiation,
Functional Differentiation,
Niklas Luhmann
DOI
10.4018/978-1-5225-1868-6.ch011
Citation Information
Steffen Roth, Carlton Clark and Jan Berkel. "The Fashionable Functions Reloaded: An Updated Google Ngram View of Trends in Functional Differentiation (1800-2000)" Hershey
Research Paradigms and Contemporary Perspectives on Human-Technology Interaction
(2017) p. 236 - 265
Available at: http://works.bepress.com/roth/22/