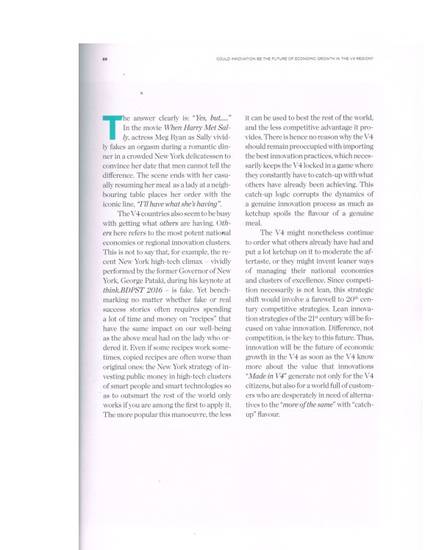 Contribution to Book
Could innovation be the future of economic growth in the V4 region?
V4 – 25 years. The continuing story of the Visegrad Group (2016)
Abstract
The V4 might continue to order what others already have had and put a lot ketchup on it to moderate the aftertaste, or they might invent leaner ways of managing their national economies and clusters of excellence.
Keywords
V4,
Visegrad Group,
innovation,
future
Publication Date
Fall 2016
Editor
W. Przbylski, V. Dostal, P. Janebova, T. Strazay, and Z- Vegh
Publisher
Fundacja Res Publica
Citation Information
Steffen Roth. "Could innovation be the future of economic growth in the V4 region?" Warsaw
V4 – 25 years. The continuing story of the Visegrad Group
(2016) p. 88 - 89
Available at: http://works.bepress.com/roth/19/