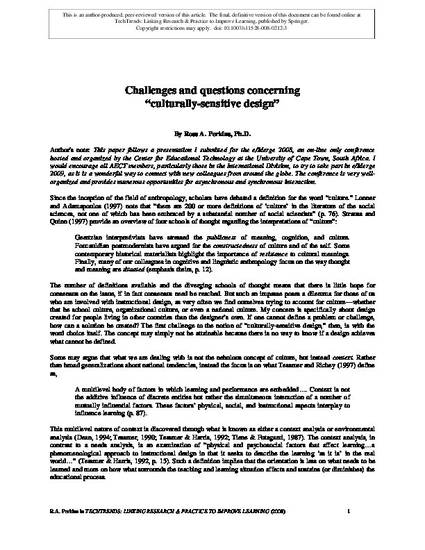 Article
Challenges and Questions Concerning "Culturally-Sensitive Design"
TechTrends
Publication Date
11-1-2008
DOI
http://dx.doi.org/10.1007/s11528-008-0212-3
Abstract
Since the inception of the field of anthropology, scholars have debated the definition for the word "culture." Lonner and Adamapoulos (1997) note that "there are 200 or more definitions of 'culture' in the literature of the social sciences, not one of which has been embraced by a substantial number of social scientists" (p. 76). Strauss and Quinn (1997) provide an overview of four schools of thought regarding the interpretations of "culture":
"Geertzian interpretivists have stressed the publicness of meaning, cognition, and culture. Foucauldian postmodernists have argued for the constructedness of culture and of the self. Some contemporary historical materialists highlight the importance of resistance to cultural meanings. Finally, many of our colleagues in cognitive and linguistic anthropology focus on the way thought and meaning are situated" (emphases theirs, p. 12).
Copyright Statement
This is an author-produced, peer-reviewed version of this article. The final, definitive version of this document can be found online at TechTrends, published by Springer. Copyright restrictions may apply. DOI: 10.1007/s11528-008-0212-3
Citation Information
Ross Perkins. "Challenges and Questions Concerning "Culturally-Sensitive Design""
TechTrends
(2008)
Available at: http://works.bepress.com/ross_perkins/1/