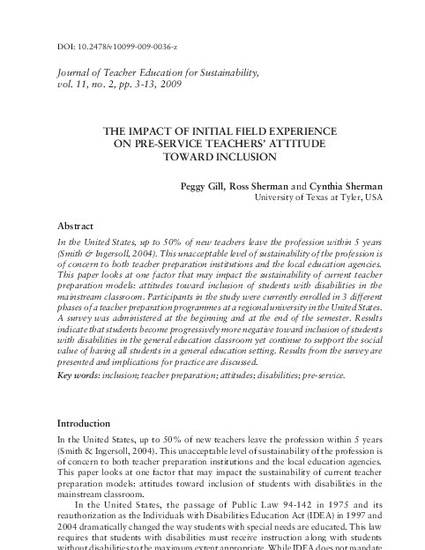 Article
The impact of initial field experience on preservice teachers' attitude toward inclusion.
Educational Leadership and Policy Studies Faculty Publications and Presentations
Abstract
In the United States, up to 50% of new teachers leave the profession within 5 years (Smith & Ingersoll, 2004). This unacceptable level of sustainability of the profession is of concern to both teacher preparation institutions and the local education agencies. This paper looks at one factor that may impact the sustainability of current teacher preparation models: attitudes toward inclusion of students with disabilities in the mainstream classroom. Participants in the study were currently enrolled in 3 different phases of a teacher preparation programmes at a regional university in the United States. A survey was administered at the beginning and at the end of the semester. Results indicate that students become progressively more negative toward inclusion of students with disabilities in the general education classroom yet continue to support the social value of having all students in a general education setting. Results from the survey are presented and implications for practice are discussed.
Description
This article was originally published through the Journal of Teacher Education for Sustainability, through the Institute of Sustainable Education, under a Creative Commons Attribution Non-Commercial No Derivatives License. Article DOI: 10.2478/v10099-009-0036-z
Publisher
Institute of Sustainable Education
Date of publication
4-1-2009
Persistent identifier
http://hdl.handle.net/10950/547
Publisher Citation
Gill, P, Sherman, R. & Sherman, C. (2009). The impact of initial field experience on preservice teachers' attitude toward inclusion. Journal of Teacher Education for Sustainability, 11(2), 3-13. Doi: 10.2478/v10099-009-0036-z
Citation Information
Peggy Gill, Ross Sherman and Cynthia Sherman. "The impact of initial field experience on preservice teachers' attitude toward inclusion." (2009)
Available at: http://works.bepress.com/ross-sherman/7/