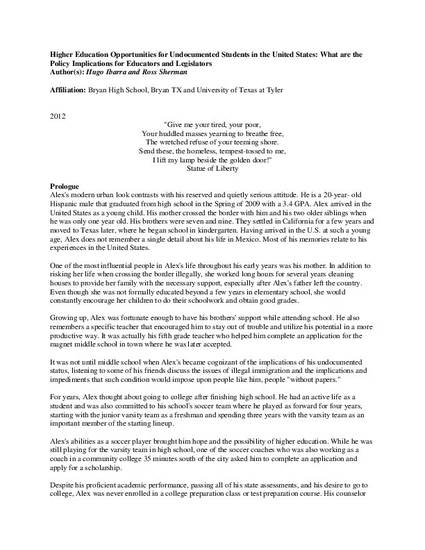 Article
Higher education opportunities for undocumented students in the United States: What are the policy implications for educators and legislators
Educational Leadership and Policy Studies Faculty Publications and Presentations
Abstract
A large number of undocumented students graduate from high school every year in the United States. This number is estimated to be around 65 thousand (Passel, 2003). Out of this population, only 5-10 percent continue their education in a higher education institution. As a society we should ask ourselves: What are the political, economic and moral implications of undocumented students inability to access higher education. How should educators and legislators approach this issue?
Description
This article was originally published in JEP, the eJournal of Education Policy, in Spring 2012.
Publisher
JEP: eJournal of Education Policy
Date of publication
3-1-2012
Persistent identifier
http://hdl.handle.net/10950/546
Publisher Citation
Ibarra, H. & Sherman, R. (2012). Higher education opportunities for undocumented students in the United States: What are the policy implications for educators and legislators. JEP eJournal of Education Policy, Spring.
Citation Information
Hugo Ibarra and Ross Sherman. "Higher education opportunities for undocumented students in the United States: What are the policy implications for educators and legislators" (2012)
Available at: http://works.bepress.com/ross-sherman/4/