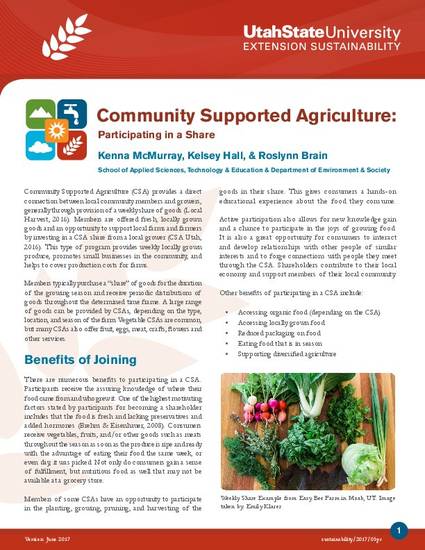 Popular Press
Community Supported Agriculture: Participating in a Share
USU Extension (2017)
Abstract
Community Supported Agriculture is a farming practice that provides a direct link between the community and the grower. Shareholders purchase a share of the CSA and receive produce at incremental time periods, generally weekly. Barriers and benefits to becoming a shareholder vary. Potential benefits include access to local, fresh produce free of preservatives and added hormones, and supporting diversified agriculture. Some potential barriers include the seasonality of production, a smaller variety of product, and the upfront cost of shares.
Citation Information
Roslynn McCann, Kenna McMurray and Kelsey Hall. "Community Supported Agriculture: Participating in a Share"
USU Extension
(2017)
Available at: http://works.bepress.com/roslynn_brain/125/