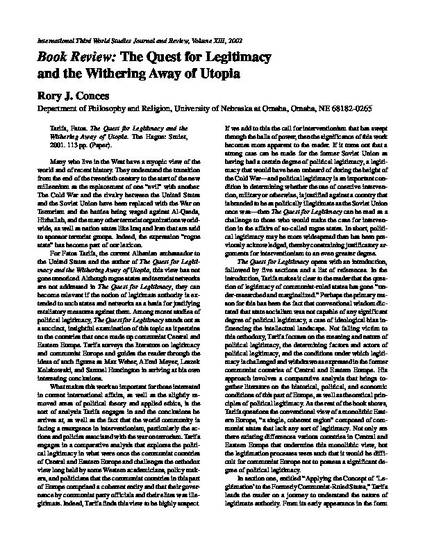 Article
Book Review: The Quest for Legitimacy and the Withering Away of Utopia
International Third World Studies Journal and Review
Document Type
Book Review
Publication Date
1-1-2002
Abstract
Many who live in the West have a myopic view of the world and of recent history. They understand the transition from the end of the twentieth century to the start of the new millennium as the replacement of one "evil" with another. The Cold War and the rivalry between the United States and the Soviet Union have been replaced with the War on Terrorism and the battles being waged against Al-Qaeda, Hizballah, and the many other terrorist organizations worldwide, as well as nation states like Iraq and Iran that are said to sponsor terrorist groups. Indeed, the expression "rogue state" has become part of our lexicon.
Citation Information
Rory J. Conces. "Book Review: The Quest for Legitimacy and the Withering Away of Utopia"
International Third World Studies Journal and Review
Vol. XIII (2002) p. 23 - 26
Available at: http://works.bepress.com/rory-conces/13/