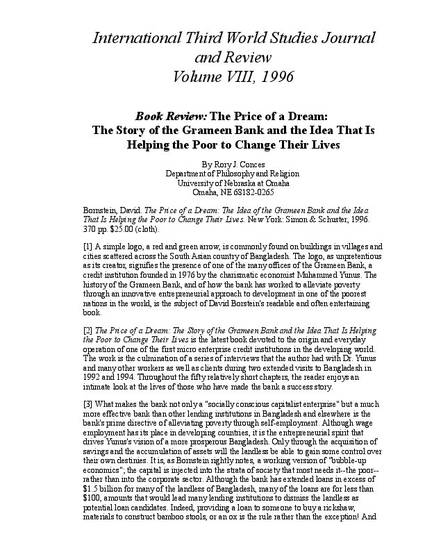 Article
Book Review: The Price of a Dream: The Story of the Grameen Bank and the Idea That Is Helping the Poor to Change Their Lives
International Third World Studies Journal and Review
Document Type
Book Review
Publication Date
1-1-1996
Abstract
A simple logo, a red and green arrow, is commonly found on buildings in villages and cities scattered across the South Asian country of Bangladesh. The logo, as unpretentious as its creator, signifies the presence of one of the many offices of the Grameen Bank, a credit institution founded in 1976 by the charismatic economist Muhammed Yunus. The history of the Grameen Bank, and of how the bank has worked to alleviate poverty through an innovative entrepreneurial approach to development in one of the poorest nations in the world, is the subject of David Borstein's readable and often entertaining book.
Citation Information
Rory J. Conces. "Book Review: The Price of a Dream: The Story of the Grameen Bank and the Idea That Is Helping the Poor to Change Their Lives"
International Third World Studies Journal and Review
Vol. VIII (1996) p. 91 - 92
Available at: http://works.bepress.com/rory-conces/11/