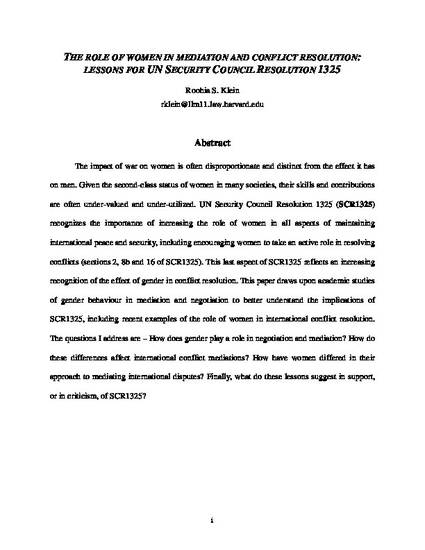 Unpublished Paper
The Role of Women in Mediation and Conflict Resolution: Lessons for UN Security Council Resolution 1325
ExpressO (2011)
Abstract
The impact of war on women is often disproportionate and distinct from the effect it has on men. Given the second-class status of women in many societies, their skills and contributions are often under-valued and under-utilized. UN Security Council Resolution 1325 (SCR1325) recognizes the importance of increasing the role of women in all aspects of maintaining international peace and security, including encouraging women to take an active role in resolving conflicts (sections 2, 8b and 16 of SCR1325). This last aspect of SCR1325 reflects an increasing recognition of the effect of gender in conflict resolution. This paper draws upon academic studies of gender behaviour in mediation and negotiation to better understand the implications of SCR1325, including recent examples of the role of women in international conflict resolution. The questions I address are – How does gender play a role in negotiation and mediation? How do these differences affect international conflict mediations? How have women differed in their approach to mediating international disputes? Finally, what do these lessons suggest in support, or in criticism, of SCR1325?
Keywords
UN Security Council Resolution 1325,
Mediation,
International conflict resolution,
Gender
Publication Date
October 4, 2011
Citation Information
Roohia S Klein. "The Role of Women in Mediation and Conflict Resolution: Lessons for UN Security Council Resolution 1325"
ExpressO
(2011)
Available at: http://works.bepress.com/roohia_klein/1/