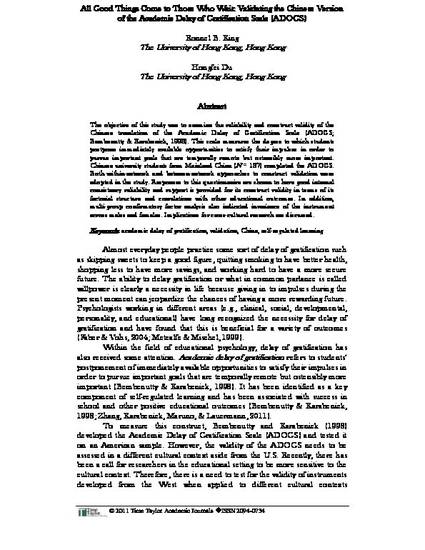 Article
All Good Things Come to Those Who Wait: Validating the Chinese Version of the Academic Delay of Gratification Scale (ADOGS)
The International Journal of Educational and Psychological Assessment (2011)
Abstract
The objective of this study was to examine the reliability and construct validity of the Chinese translation of the Academic Delay of Gratification Scale (ADOGS; Bembenutty & Karabenick, 1998). This scale measures the degree to which students postpone immediately available opportunities to satisfy their impulses in order to pursue important goals that are temporally remote but ostensibly more important. Chinese university students from Mainland China (N = 187) completed the ADOGS. Both within-network and between-network approaches to construct validation were adopted in the study. Responses to this questionnaire are shown to have good internal consistency reliability and support is provided for its construct validity in terms of its factorial structure and correlations with other educational outcomes. In addition, multi-group confirmatory factor analysis also indicated invariance of the instrument across males and females. Implications for cross-cultural research are discussed.
Keywords
academic delay of gratification,
validation,
China,
self-regulated learning
Citation Information
Ronnel B King and Hongfei Du. "All Good Things Come to Those Who Wait: Validating the Chinese Version of the Academic Delay of Gratification Scale (ADOGS)"
The International Journal of Educational and Psychological Assessment
Vol. 7 Iss. 1 (2011)
Available at: http://works.bepress.com/ronnel_king/2/