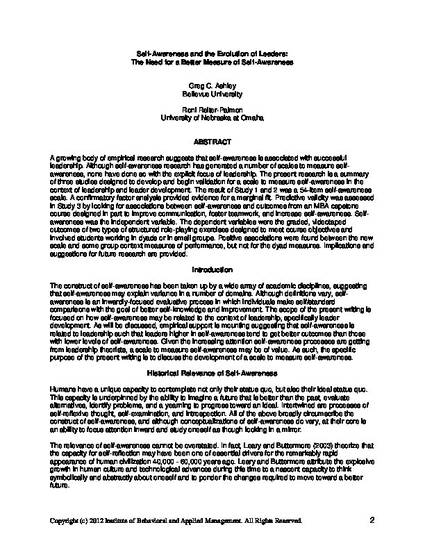 Article
Self-Awareness and the Evolution of Leaders: The Need for a Better Measure of Self-Awareness
Journal of Behavioral and Applied Management
Publication Date
9-1-2012
Abstract
A growing body of empirical research suggests that self-awareness is associated with successful leadership. Although self-awareness research has generated a number of scales to measure self-awareness, none have done so with the explicit focus of leadership. The present research is a summary of three studies designed to develop and begin validation for a scale to measure self-awareness in the context of leadership and leader development. The result of Study 1 and 2 was a 54-item self-awareness scale. A confirmatory factor analysis provided evidence for a marginal fit. Predictive validity was assessed in Study 3 by looking for associations between self-awareness and outcomes from an MBA capstone course designed in part to improve communication, foster teamwork, and increase self-awareness. Self-awareness was the independent variable. The dependent variables were the graded, videotaped outcomes of two types of structured role-playing exercises designed to meet course objectives and involved students working in dyads or in small groups. Positive associations were found between the new scale and some group context measures of performance, but not for the dyad measures. Implications and suggestions for future research are provided.
Citation Information
Greg C. Ashley and Roni Reiter-Palmon. "Self-Awareness and the Evolution of Leaders: The Need for a Better Measure of Self-Awareness"
Journal of Behavioral and Applied Management
Vol. 14 Iss. 1 (2012) p. 2 - 17
Available at: http://works.bepress.com/roni_reiter-palmon/12/