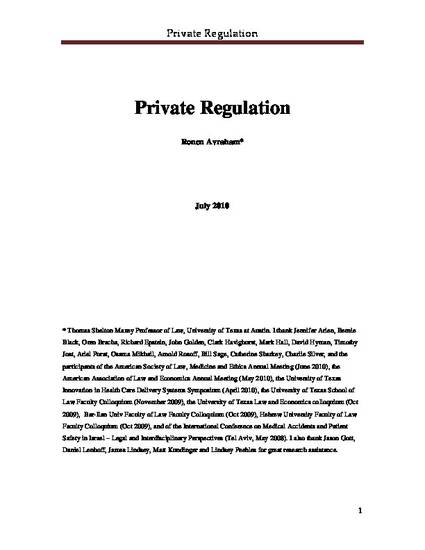 Unpublished Paper
Private Regulation
ExpressO (2010)
Abstract
In this paper I propose implementing a "private regulation regime" for healthcare which would realign health care providers' incentives so as to significantly reduce the healthcare system's three major cost drivers: medical errors, defensive medicine and offensive medicine. The private regulation regime would consist of private firms which would develop clinical practice guidelines and sell them to client health care providers. In exchange for purchasing, and following, the guidelines, providers would be immune from medical malpractice lawsuits. The private regulators, though, would face liability for producing suboptimal guidelines. Providers would be less likely to make medical errors because they would be following optimally designed guidelines. They would have no incentive to engage in defensive medicine because they face no liability as long as they follow the guidelines. Lastly, they would be deterred from engaging in offensive medicine because providing treatment not prescribed by the guidelines would expose them to liability. This private regulation regime would require several changes in present legal infrastructure to come to fruition.
Publication Date
August 22, 2010
Citation Information
ronen avraham. "Private Regulation"
ExpressO
(2010)
Available at: http://works.bepress.com/ronen_avraham/2/