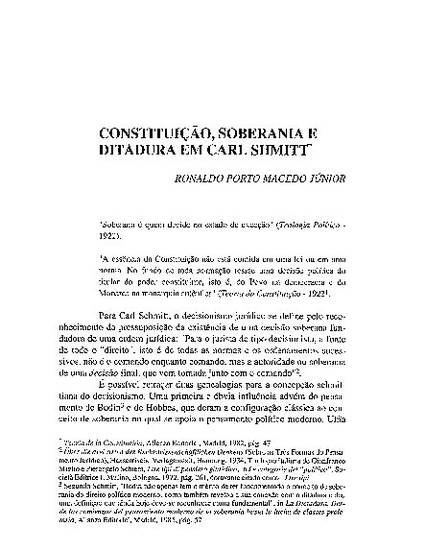 Article
Constituição, Soberania e Ditadura em Carl Schmitt
Lua Nova (1997)
Abstract
On the basis of a reconstruction of Schmitt's decisionism and of the analysis of its effects on key terms of his conception like democracy, sovereignty and dictatorship, Schmitt'sthought is examined regarding his theoretical and practical positions on the constitutional issues of Weimar's Germany and of National-socialism. Special attention is given to how for him the unity and the hierarchy of the political powers and of the lae demand a strong State and a centralized command instead of a pluralistic balance.
Keywords
Constituição,
soberania,
ditadura,
Schmitt,
Ronaldo Porto,
Constitution,
sovereignty,
dictatorship
Citation Information
Ronaldo Porto Macedo. "Constituição, Soberania e Ditadura em Carl Schmitt"
Lua Nova
Iss. 42 (1997)
Available at: http://works.bepress.com/ronaldo_portomacedo/10/