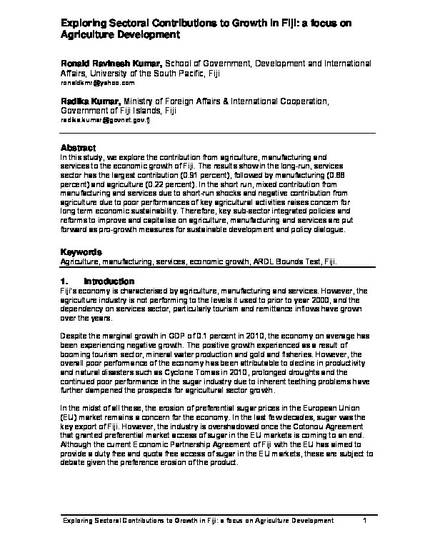 Article
Exploring Sectoral Contributions to Growth in Fiji: a focus on Agriculture Development
Journal of International Academic Research (2011)
Abstract
In this study, we explore the contribution from agriculture, manufacturing and services to the economic growth of Fiji. The results show in the long-run, services sector has the largest contribution (0.91 percent), followed by manufacturing (0.88 percent) and agriculture (0.22 percent). In the short run, mixed contribution from manufacturing and services due to short-run shocks and negative contribution from agriculture due to poor performances of key agricultural activities raises concern for long term economic sustainability. Therefore, key sub-sector integrated policies and reforms to improve and capitalise on agriculture, manufacturing and services are put forward as pro-growth measures for sustainable development and policy dialogue.
Keywords
Agriculture,
manufacturing,
services,
economic growth,
ARDL Bounds Test,
Fiji
Citation Information
Kumar, R.R. and Kumar R. "Exploring Sectoral Contributions to Growth in Fiji: a focus on Agriculture Development" Journal of International Academic Research 11.2 (2011): 1-14.