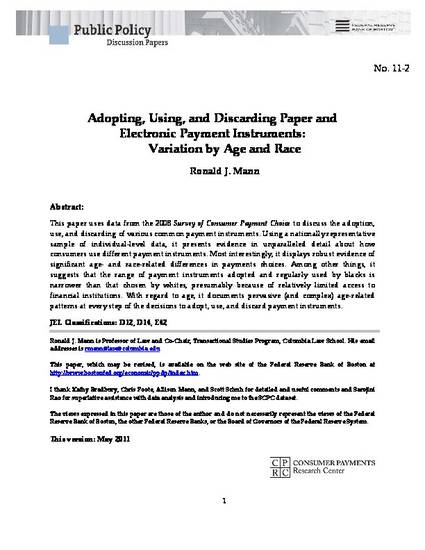 Unpublished Paper
Adopting, Using, and Discarding Paper and Electronic Payment Instruments: Variation by Age and Race
Federal Reserve Bank of Boston Public Policy Discussion Papers (2011)
Abstract
This paper uses data from the 2008 Survey of Consumer Payment Choice to discuss the adoption, use, and discarding of various common payment instruments. Using a nationally representative sample of individual-level data, it presents evidence in unparalleled detail about how consumers use different payment instruments. Most interestingly, it displays robust evidence of significant age- and race-related differences in payments choices. Among other things, it suggests that the range of payment instruments adopted and regularly used by blacks is narrower than that chosen by whites, presumably because of relatively limited access to financial institutions. With regard to age, it documents pervasive (and complex) age-related patterns at every step of the decisions to adopt, use, and discard payment instruments.
Keywords
credit cards,
debit cards,
checks
Publication Date
May, 2011
Citation Information
Ronald J. Mann. "Adopting, Using, and Discarding Paper and Electronic Payment Instruments: Variation by Age and Race"
Federal Reserve Bank of Boston Public Policy Discussion Papers
(2011)
Available at: http://works.bepress.com/ronald_mann/35/