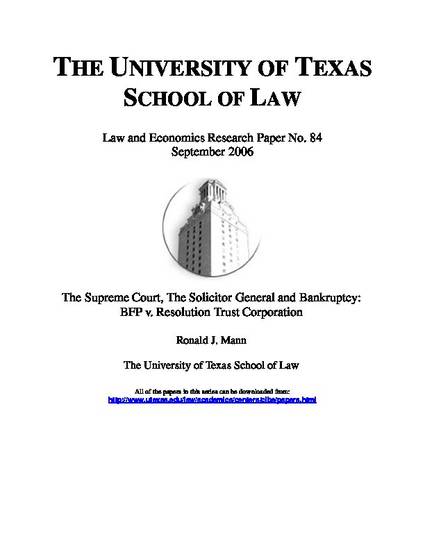 Contribution to Book
The Supreme Court, the Solicitor General, and Bankruptcy: BFP v. Resolution Trust Corporation
Bankruptcy Stories (2007)
Abstract
Using information from Justice Blackmun's files and the case, and a dataset matching Supreme Court bankruptcy decisions with information about participation by the Solicitor General, the paper argues that the SG's participation in secured creditor disputes in the mid-1990's is a big part of the explanation of this counter-textual case. The paper introduces a broader theory of bankruptcy interpretation that I call "bankruptcy skepticism," rejecting claims that bankruptcy interpretation by the Supreme Court has been literalist.
Publication Date
March, 2007
Editor
Robert K. Rasmussen
Publisher
Foundation Press
Citation Information
Ronald Mann. "The Supreme Court, the Solicitor General, and Bankruptcy: BFP v. Resolution Trust Corporation"
Bankruptcy Stories
(2007)
Available at: http://works.bepress.com/ronald_mann/19/