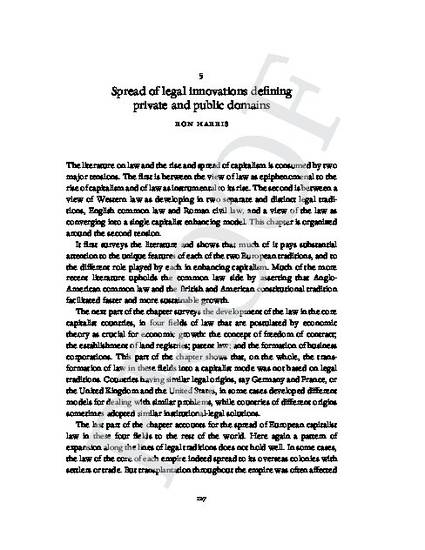 Article
Spread of legal innovations defining private and public domains.pdf
Cambridge Economic History of Capitalism Vol. II (Cambridge, 2014) (2014)
Abstract
The literature on law and the rise and spread of capitalism is consumed by two major tensions. The first is between the view of law as epiphenomenal to the rise of capitalism and of law as instrumental to its rise. The second is between a view of Western law as developing in two separate and distinct legal traditions, English common law and Roman civil law, and a view of the law as converging into a single capitalist enhancing model. This chapter is organized around the second tension. It first surveys the literature and shows that much of it pays substantial attention to the unique features of each of the two European traditions, and to the different role played by each in enhancing capitalism. Much of the more recent literature upholds the common law side by asserting that Anglo-American common law and the British and American constitutional tradition facilitated faster and more sustainable growth.
Citation Information
Ron Harris. "Spread of legal innovations defining private and public domains.pdf"
Cambridge Economic History of Capitalism Vol. II (Cambridge, 2014)
(2014)
Available at: http://works.bepress.com/ron_harris/45/