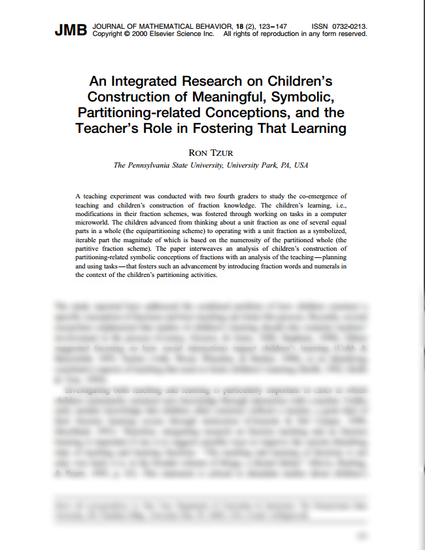 Article
An Integrated Research on Children's Construction of Meaningful, Symbolic, Partitioning-related Conceptions and the Teacher's Role in Fostering That Learning
STEM Faculty Publications
Publication Date
2-1-1999
Abstract
A teaching experiment was conducted with two fourth graders to study the co-emergence of teaching and children's construction of fraction knowledge. The children's learning, i.e., modifications in their fraction schemes, was fostered through working on tasks in a computer microworld. The children advanced from thinking about a unit fraction as one of several equal parts in a whole (the equipartitioning scheme) to operating with a unit fraction as a symbolized, iterable part the magnitude of which is based on the numerosity of the partitioned whole (the partitive fraction scheme). The paper interweaves an analysis of children's construction of partitioning-related symbolic conceptions of fractions with an analysis of the teaching—planning and using tasks—that fosters such an advancement by introducing fraction words and numerals in the context of the children's partitioning activities.
Citation Information
Tzur, R. (2000). An integrated research on children's construction of meaningful, symbolic, partitioning-related conceptions, and the teacher's role in fostering that learning. Journal of Mathematical Behavior, 18, 2, 123-147.