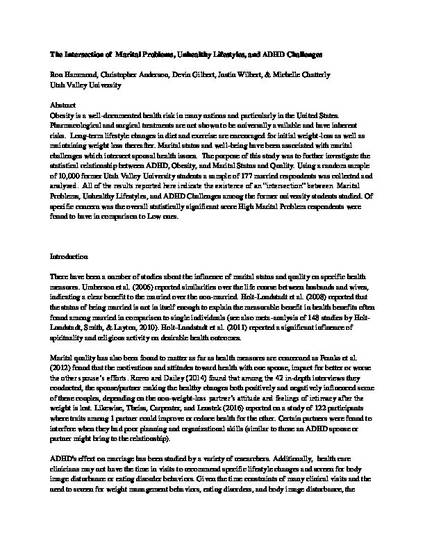 Unpublished Paper
The Intersection of Marital Problems, Unhealthy Lifestyles, and ADHD Challenges.pdf
(2019)
Abstract
Obesity is a well-documented health risk in many nations and particularly in the United States. Pharmacological and surgical treatments are not shown to be universally available and have inherent risks.  Long-term lifestyle changes in diet and exercise are encouraged for initial weight-loss as well as maintaining weight loss thereafter. Marital status and well-being have been associated with marital challenges which intersect spousal health issues.  The purpose of this study was to further investigate the statistical relationship between ADHD, Obesity, and Marital Status and Quality. Using a random sample of 10,000 former Utah Valley University students a sample of 177 married respondents was collected and analyzed.  All of the results reported here indicate the existence of an "intersection" between  Marital Problems, Unhealthy Lifestyles, and ADHD Challenges among the former university students studied. Of specific concern was the overall statistically significant score High Marital Problem respondents were found to have in comparison to Low ones. 
Keywords
Obesity,
ADHD,
Marita Quality,
Healthy Lifestyles,
Weightloss,
Marital Challenges
Publication Date
Winter March 5, 2019
Citation Information
Ron J Hammond, Christopher Anderson, Devin Gilbert, Justin Wilbert, et al.. "The Intersection of Marital Problems, Unhealthy Lifestyles, and ADHD Challenges.pdf" (2019)
Available at: http://works.bepress.com/ron-hammond/1/
Creative Commons License
This work is licensed under a Creative Commons CC_BY-SA International License.