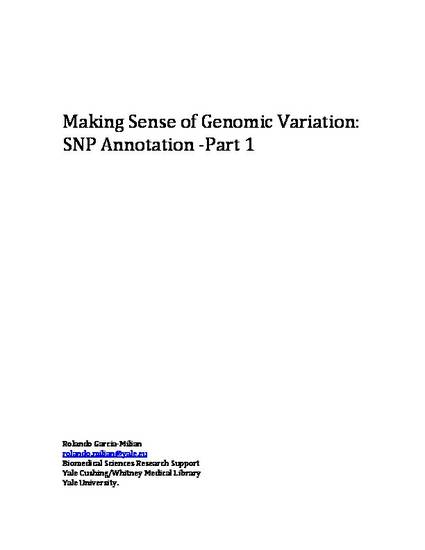 Handout
Making Sense of Genomic Variation: Part 1 SNP Annotation
Making Sense of Genomic Variaton (2016)
Description
The  specific combination of genetic variation in an individual defines not  only the external appearance but also susceptibility to diseases,  cancer, genetic disorders, drug response, etc. This explains the great  interest in discovering and cataloging these variations and using them  for disease association and functional studies, among others. In this  session we will review the most popular databases and tools to annotate,  analyze and visualize genetic variations. Some of the databases and  tools that will be discussed are:
-dbSNP
- Online Mendelian Inheritance in Man a comprehensive, authoritative compendium of human genes and genetic phenotypes.
- GWAS Catalog
-  EBI's Ensembl Variant Effect Predictor to annotate and determine the  effect of variants on genes, transcripts, and protein sequence, as well  as regulatory regions.
And more…
These handouts offer step-by-step instructions on how to use online resources to find, retrieve and annotate SNPs. This material is part of an standalone workshop on SNP annotation.
Keywords
SNP,
genetic variation,
genomics,
GWAS,
Variant Effect Predictor,
BioMart,
Ensembl
Publication Date
Spring April, 2016
DOI
10.13140/RG.2.1.1952.2963
Citation Information
Rolando Garcia-Milian. "Making Sense of Genomic Variation: Part 1 SNP Annotation"
Making Sense of Genomic Variaton
(2016)
Available at: http://works.bepress.com/rolando_garciamilian/11/
Creative Commons license
This work is licensed under a Creative Commons CC_BY-NC-ND International License.