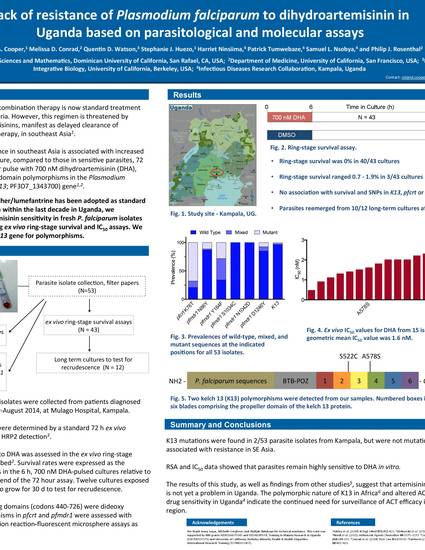 Presentation
Lack of resistance of Plasmodium falciparum to dihydroartemisinin in Uganda based on parasitogolgical and molecular assays
American Society of Tropical Medicine and Hygiene 64th Annual Meeting
Document Type
Conference Proceeding
Location
Philadelphia, PA
Publication Date
10-25-2015
Department
Natural Sciences and Mathematics
Abstract
Artemisinin-­‐based combination therapy is now standard treatment for falciparum malaria. However, this regimen is threatened by resistance to artemisinins, manifest as delayed clearance of parasitemia after therapy, in southeast Asia. Artemisinin resistance in southeast Asia is associated with increased parasitemias in culture, compared to those in sensi0ve parasites, 72 hours a=er a 6 hour pulse with 700 nM dihydroartemisinin (DHA), and with propeller domain polymorphisms in the Plasmodium falciparum kelch (K13; PF3D7_1343700) gene Given that artemether/lumefantrine has been adopted as standard therapy for malaria within the last decade in Uganda, we characterized artemisinin sensiBvity in fresh P. falciparum isolates from Kampala using ex vivo ring-­‐stage survival and IC50 assays. We also assessed the K13 gene for polymorphisms.
Citation Information
Roland A. Cooper, Melissa D. Conrad, Quentin D. Watson, Stephanie J. Huezo, et al.. "Lack of resistance of Plasmodium falciparum to dihydroartemisinin in Uganda based on parasitogolgical and molecular assays"
American Society of Tropical Medicine and Hygiene 64th Annual Meeting
(2015)
Available at: http://works.bepress.com/roland_cooper/35/