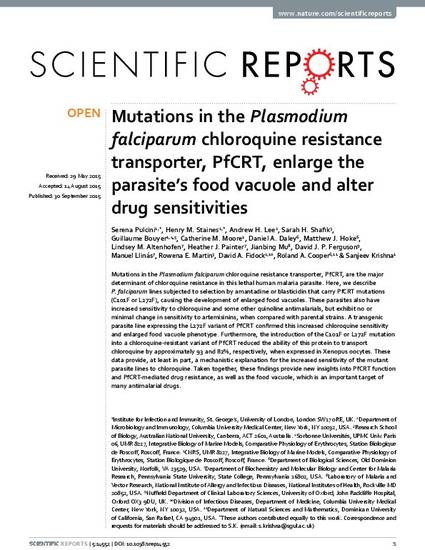 Article
Mutations in the P. falciparum Digestive Vacuole Transmembrane Protein PfCRT and Evidence for Their Role in Chloroquine Resistance
Molecular Cell
Publication Date
10-1-2000
Department
Natural Sciences and Mathematics
Abstract
The determinant of verapamil-reversible chloroquine resistance (CQR) in a Plasmodium falciparum genetic cross maps to a 36 kb segment of chromosome 7. This segment harbors a 13-exon gene, pfcrt, having point mutations that associate completely with CQR in parasite lines from Asia, Africa, and South America. These data, transfection results, and selection of a CQR line harboring a novel K761 mutation point to a central role for the PfCRT protein in CQR. This transmembrane protein localizes to the parasite digestive vacuole (DV), the site of CQ action, where increased compartment acidification associates with PfCRT point mutations. Mutations in PfCRT may result in altered chloroquine flux or reduced drug binding to hematin through an effect on DV pH.
Citation Information
David A. Fidock, Takashi Nomura, Angela K. Talley, Roland A. Cooper, et al.. "Mutations in the P. falciparum Digestive Vacuole Transmembrane Protein PfCRT and Evidence for Their Role in Chloroquine Resistance"
Molecular Cell
Vol. 6 Iss. 4 (2000) p. 861 - 871 ISSN: 1097-4164
Available at: http://works.bepress.com/roland_cooper/34/