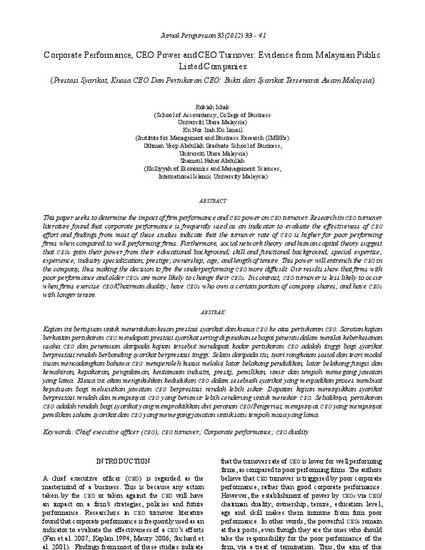 Article
Corporate Performance, CEO Power and CEO Turnover: Evidence from Malaysian Public Listed Companies
Jurnal Pengurusan (2012)
Abstract
This paper seeks to determine the impact of firm performance and CEO power on CEO turnover. Research in CEO turnover literature found that corporate performance is frequently used as an indicator to evaluate the effectiveness of CEO effort and findings from most of these studies indicate that the turnover rate of CEO is higher for poor performing firms when compared to well performing firms. Furthermore, social network theory and human capital theory suggest that CEOs gain their power from their educational background; skill and functional background; special expertise; experience; industry specialization; prestige; ownership; age; and length of tenure. This power will entrench the CEO in the company, thus making the decision to fire the underperforming CEO more difficult. Our results show that firms with poor performance and older CEOs are more likely to change their CEOs. In contrast, CEO turnover is less likely to occur when firms exercise CEO/Chairman duality; have CEOs who own a certain portion of company shares; and have CEOs with longer tenure.
Citation Information
rokiah ishak. "Corporate Performance, CEO Power and CEO Turnover: Evidence from Malaysian Public Listed Companies"
Jurnal Pengurusan
Vol. 35 (2012)
Available at: http://works.bepress.com/rokiah_ishak/1/