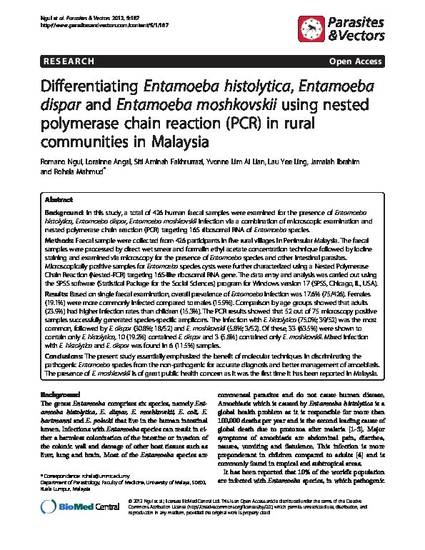 Article
Differentiating Entamoeba histolytica, Entamoeba dispar and Entamoeba moshkovskii using nested polymerase chain reaction (PCR) in rural communities in Malaysia
Parasites & Vectors (2012)
Abstract
Background: In this study, a total of 426 human faecal samples were examined for the presence of Entamoeba histolytica, Entamoeba dispar, Entamoeba moshkovskii infection via a combination of microscopic examination and nested polymerase chain reaction (PCR) targeting 16S ribosomal RNA of Entamoeba species. Methods: Faecal sample were collected from 426 participants in five rural villages in Peninsular Malaysia. The faecal samples were processed by direct wet smear and formalin ethyl acetate concentration technique followed by iodine staining and examined via microscopy for the presence of Entamoeba species and other intestinal parasites. Microscopically positive samples for Entamoeba species cysts were further characterized using a Nested Polymerase Chain Reaction (Nested-PCR) targeting 16S-like ribosomal RNA gene. The data entry and analysis was carried out using the SPSS software (Statistical Package for the Social Sciences) program for Windows version 17 (SPSS, Chicago, IL, USA). Results: Based on single faecal examination, overall prevalence of Entamoeba infection was 17.6% (75/426). Females (19.1%) were more commonly infected compared to males (15.9%). Comparison by age groups showed that adults (23.9%) had higher infection rates than children (15.3%). The PCR results showed that 52 out of 75 microscopy positive samples successfully generated species-specific amplicons. The infection with E. histolytica (75.0%; 39/52) was the most common, followed by E. dispar (30.8%; 18/52) and E. moshkovskii (5.8%; 3/52). Of these, 33 (63.5%) were shown to contain only E. histolytica, 10 (19.2%) contained E. dispar and 3 (5.8%) contained only E. moshkovskii. Mixed infection with E. histolytica and E. dispar was found in 6 (11.5%) samples. Conclusions: The present study essentially emphasized the benefit of molecular techniques in discriminating the pathogenic Entamoeba species from the non-pathogenic for accurate diagnosis and better management of amoebiasis. The presence of E. moshkovskii is of great public health concern as it was the first time it has been reported in Malaysia.
Publication Date
September, 2012
Citation Information
Rohela Mahmud. "Differentiating Entamoeba histolytica, Entamoeba dispar and Entamoeba moshkovskii using nested polymerase chain reaction (PCR) in rural communities in Malaysia"
Parasites & Vectors
Vol. 5 (2012)
Available at: http://works.bepress.com/rohela_mahmud/7/