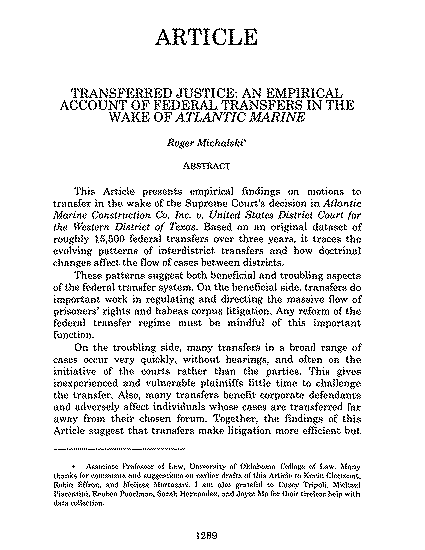 Article
Transferred Justice: An Empirical Account of Federal Transfers in the Wake of Atlantic Marine
Houston Law Review (2016)
Abstract
This Article presents empirical findings on motions to transfer in the wake of the Supreme Court's decision in Atlantic Marine Construction Co. Inc. v. United States District Court for the Western District of Texas. Based on an original dataset of roughly 15,500 federal transfers over three years, it traces the evolving patterns of interdistrict transfers and how doctrinal changes affect the flow of cases between districts.
These patterns suggest both beneficial and troubling aspects of the federal transfer system. On the beneficial side, transfers do important work in regulating and directing the massive flow of prisoners' rights and habeas corpus litigation. Any reform of the federal transfer regime must be mindful of this important function.
On the troubling side, many transfers in a broad range of cases occur very quickly, without hearings, and often on the initiative of the courts rather than the parties. This gives inexperienced and vulnerable plaintiffs little time to challenge the transfer. Also, many transfers benefit corporate defendants and adversely affect individuals whose cases are transferred far away from their chosen forum. Together, the findings of this Article suggest that transfers make litigation more efficient but also frequently tilt the litigation playing field in favor of institutional actors at the expense of individuals.
Keywords
motions to transfer,
federal transfers,
interdistrict transfers
Publication Date
Spring 2016
Citation Information
Roger Michalski,
Transferred Justice: An Empirical Account of Federal Transfers in the Wake of Atlantic Marine
53
Houston Law Review
1289 (2016).