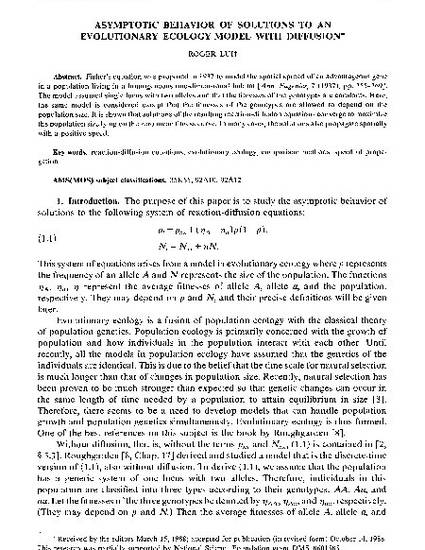 Article
Asymptotic Behavior of Solutions to An Evolutionary Ecology Model with Diffusion
SIAM Journal on Applied Mathematics
Publication Date
10-1-1989
Abstract
Fisher's equation was proposed in 1937 to model the spatial spread of an advantageous gene in a population living in a homogeneous one-dimensional habitat [Ann. Eugenics, 7 (1937), pp. 355–369]. The model assumed single locus with two alleles and that the fitnesses of the genotypes are constants. Here, the same model is considered except that the fitnesses of the genotypes are allowed to depend on the population size. It is shown that solutions of the resulting reaction-diffusion equations converge to maximize the population size lying on the zero mean fitness curve. In many cases, the solutions also propagate spatially with a positive speed.
Publisher Statement
© 1989, SIAM Publications.
Citation Information
Roger Lui. "Asymptotic Behavior of Solutions to An Evolutionary Ecology Model with Diffusion"
SIAM Journal on Applied Mathematics
Vol. 49 Iss. 5 (1989) p. 1447 - 1461
Available at: http://works.bepress.com/roger_lui/7/