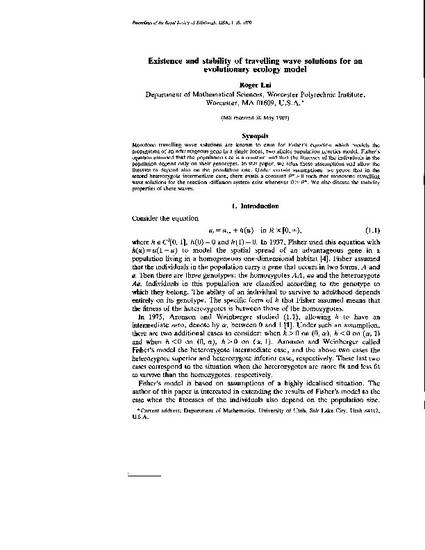 Article
Existence and Stability of Traveling-Wave Solutions for an Evolutionary Ecology Model
Proceedings of the Royal Society of Edinburgh Section A-Mathematics
Publication Date
1-1-1990
Abstract
Monotone travelling wave solutions are known to exist for Fisher's equation which models the propagation of an advantageous gene in a single locus, two alleles population genetics model. Fisher's equation assumed that the population size is a constant and that the fitnesses of the individuals in the population depend only on their genotypes. In this paper, we relax these assumptions and allow the fitnesses to depend also on the population size. Under certain assumptions, we prove that in the second heterozygote intermediate case, there exists a constant θ*>0 such that monotone travelling wave solutions for the reaction–diffusion system exist whenever θ > θ*. We also discuss the stability properties of these waves.
DOI
10.1017/S0308210500024525
Citation Information
Roger Lui. "Existence and Stability of Traveling-Wave Solutions for an Evolutionary Ecology Model"
Proceedings of the Royal Society of Edinburgh Section A-Mathematics
Vol. 115 Iss. 1-2 (1990) p. 1 - 18
Available at: http://works.bepress.com/roger_lui/6/