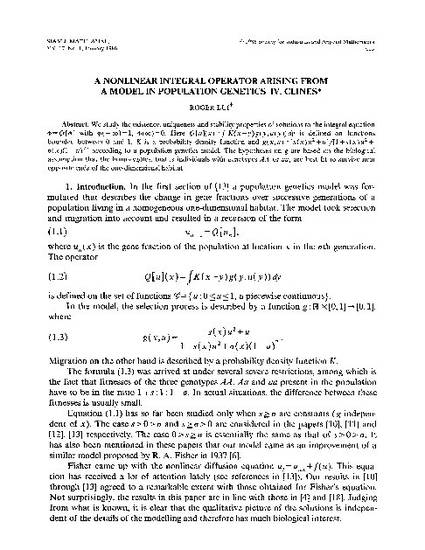 Article
A Nonlinear Integral Operator Arising from a Model in Population-Genetics .4. Clines
SIAM Journal on Mathematical Analysis
Publication Date
1-1-1986
Abstract
We study the existence, uniqueness and stability properties of solutions to the integral equation q,=Q[q] with q,(-)=l, q,()=0. Here Q[u](x)=f K(x-y)g(y,u(y))dy is defined on functions bounded between 0 and 1, K is a probability density function and g(x,u)=[s(x)u +u]/[l+s(x)u2+ o(x)(1-u)2] according to a population genetics model. The hypotheses on g are based on the biological assumption that the homozygotes, that is individuals with genotypes AA or aa, are best fit to survive near opposite ends of the one-dimensional habitat.
Publisher Statement
© 1986, SIAM Publications.
Citation Information
Roger Lui. "A Nonlinear Integral Operator Arising from a Model in Population-Genetics .4. Clines"
SIAM Journal on Mathematical Analysis
Vol. 17 Iss. 1 (1986) p. 152 - 168
Available at: http://works.bepress.com/roger_lui/1/