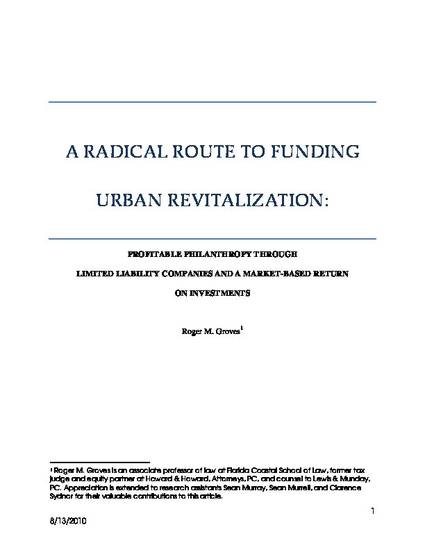 Article
A Radical Route to Funding Urban Revitalization: Profitable Philanthropy Through Limited Liability Companies and a Market-Based Return on Investments
Journal of Law, Economics, and Policy (2011)
Abstract
This article provides an incentive-laden model for increasing equity investments into urban communities. As stated in the article: "The issue posed in this article is simple. Why should we restrict the return on investment of those we beg to invest in charitable causes? The answer is far more complicated." This involves the creative use of limited liability companies as joint venture vehicles between private foundations and for-profit entities and individuals. Specific amendments to existing regulations are also crafted. From research to date, there is no scholarly publication that uses such a model to suggest nonprofit organizations should have the ability to garner the same returns on investments as profit entities. The article attempts to carefully navigate and avoid the incidence of federal tax on philanthropic LLC investments.
Keywords
Limited Liability Companies,
Return on Investments,
urban revitalization,
excise taxes,
profitable philanthropy,
social entrepreneurship,
private foundations,
tax exempt organizations,
joint ventures,
LLCs,
substantial economic effect
Publication Date
Summer 2011
Citation Information
Roger M Groves. "A Radical Route to Funding Urban Revitalization: Profitable Philanthropy Through Limited Liability Companies and a Market-Based Return on Investments"
Journal of Law, Economics, and Policy
Vol. 7 (2011)
Available at: http://works.bepress.com/roger_groves/7/