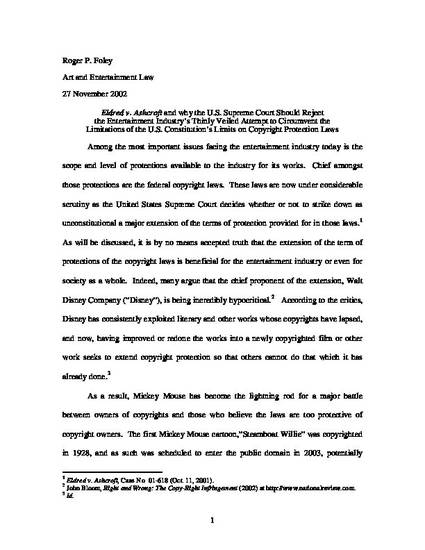 Article
Eldred v. Ashcroft and why the U.S. Supreme Court Should Reject
Opposing Copyright Extension (2002)
Abstract
Among the most important issues facing the entertainment industry today is the scope and level of protections available to the industry for its works. Chief amongst those protections are the federal copyright laws. These laws are now under considerable scrutiny as the United States Supreme Court decides whether or not to strike down as unconstitutional a major extension of the terms of protection provided for in those laws. As will be discussed, it is by no means accepted truth that the extension of the term of protections of the copyright laws is beneficial for the entertainment industry or even for society as a whole.
Keywords
Copyright,
Supreme Court,
Eldred
Citation Information
Roger P. Foley. "Eldred v. Ashcroft and why the U.S. Supreme Court Should Reject"
Opposing Copyright Extension
(2002)
Available at: http://works.bepress.com/roger_foley/1/