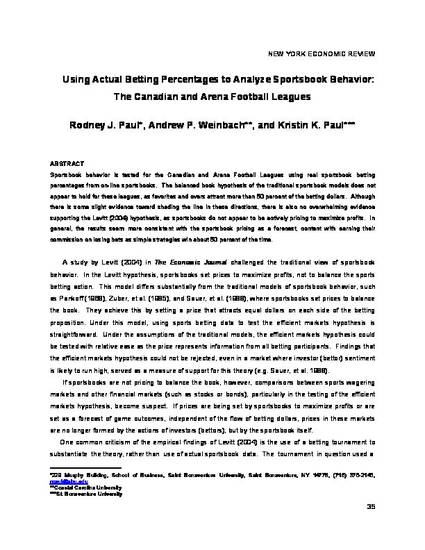 Article
Using Actual Betting Percentages to Analyze Sportsbook Behavior: The Canadian and Arena Football Leagues
New York Economic Review (2010)
Abstract
Sportsbook behavior is tested for the Canadian and Arena Football Leagues using real sportsbook betting percentages from on-line sportsbooks. The balanced book hypothesis of the traditional sportsbook models does not appear to hold for these leagues, as favorites and overs attract more than 50 percent of the betting dollars. Although there is some slight evidence toward shading the line in these directions, there is also no overwhelming evidence supporting the Levitt (2004) hypothesis, as sportsbooks do not appear to be actively pricing to maximize profits. In general, the results seem more consistent with the sportsbook pricing as a forecast, content with earning their commission on losing bets as simple strategies win about 50 percent of the time.
Publication Date
Fall 2010
Citation Information
Rodney Paul, Andrew P Weinbach and Kristin K Paul. "Using Actual Betting Percentages to Analyze Sportsbook Behavior: The Canadian and Arena Football Leagues"
New York Economic Review
Vol. 41 Iss. 1 (2010)
Available at: http://works.bepress.com/rodney_paul/5/