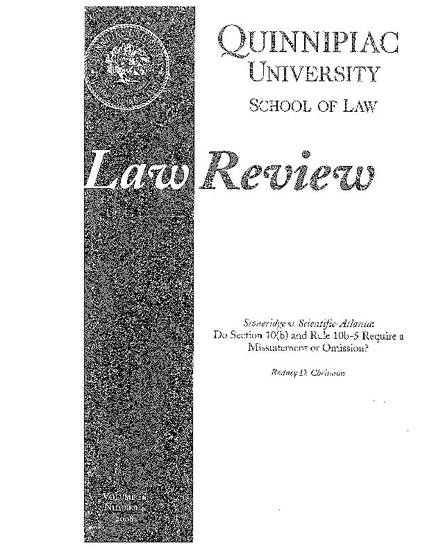 Article
Stoneridge v. Scientific-Atlanta: Do Section 10(b) and Rule 10b-5 Require a Misstatement or Omission?
Faculty Publications and Presentations
Publication Date
4-1-2008
Abstract
Stoneridge v. Scientific-Atlanta promises to be the most important securities litigation case to reach the Supreme Court since Central Bank of Denver. In this important case, Stoneridge presents the Supreme Court with the opportunity to clarify the application of its ruling in Central Bank to liability for secondary actors under section 10(b) and rule 10b-5. This Article points out that the fundamental question plaguing the lower courts since Central Bank and resulting in two circuit splits is whether section 10(b) requires that a secondary actor actually make a misstatement or omission in order to be held liable under the rule 10b-5 implied cause of action. This Article asserts that there is ample support in Supreme Court precedent for concluding that the word "deceptive" in section 10(b) does require a misstatement or omission and that the Supreme Court should so hold in Stoneridge.
Citation Information
Rodney D Chrisman. "Stoneridge v. Scientific-Atlanta: Do Section 10(b) and Rule 10b-5 Require a Misstatement or Omission?" (2008)
Available at: http://works.bepress.com/rodney_chrisman/5/