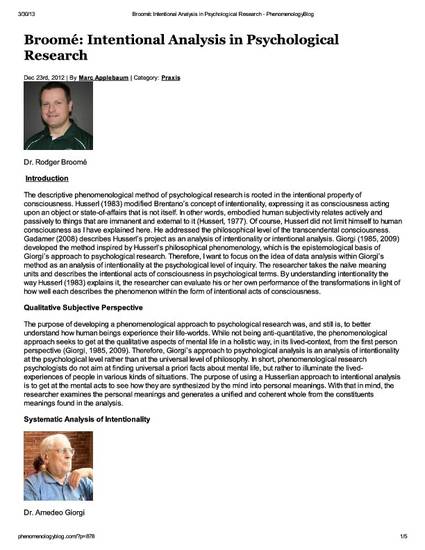 Popular Press
Intentional Analysis in Psychological Research
PhenomenologyBlog.com (2012)
Abstract
http://phenomenologyblog.com/?p=878 Giorgi's approach to psychological analysis is an analysis of intentionality at the psychological level rather than at the universal level of philosophy. In short, phenomenological research psychologists do not aim at finding universal a priori facts about mental life, but rather to illuminate the lived-experiences of people in various kinds of situations. The purpose of using a Husserlian approach to intentional analysis is to get at the mental acts to see how they are synthesized by the mind into personal meanings. With that in mind, the researcher examines the personal meanings and generates a unified and coherent whole from the constituents meanings found in the analysis.
Publication Date
Winter December 23, 2012
Citation Information
Rodger E. Broome. "Intentional Analysis in Psychological Research"
PhenomenologyBlog.com
(2012)
Available at: http://works.bepress.com/rodger_broome/30/