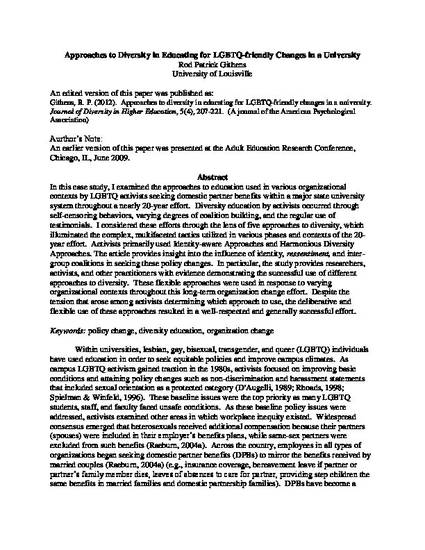 Article
Approaches to Diversity in Educating for LGBTQ-Friendly Changes in a University
Journal of Diversity in Higher Education
Publication Date
12-1-2012
Abstract
In this case study, I examine the approaches to education used in various organizational contexts by lesbian, gay, bisexual, transgender, and queer (LGBTQ) activists seeking domestic partner benefits within a major state university system throughout a nearly 20-year effort. Diversity education by activists occurred through self-censoring behaviors, varying degrees of coalition building, and the regular use of testimonials. I consider these efforts through the lens of five approaches to diversity, which illuminate the complex, multifaceted tactics utilized in various phases and contexts of the 20-year effort. Activists primarily used identity-aware approaches and harmonious diversity approaches. The article provides insight into the influence of identity, ressentiment, and intergroup coalitions in seeking these policy changes. In particular, the study provides researchers, activists, and other practitioners with evidence demonstrating the successful use of different approaches to diversity. These flexible approaches were used in response to varying organizational contexts throughout this long-term organization change effort. Despite the tension that arose among activists in determining which approach to use, the deliberative and flexible use of these approaches resulted in a well-respected and generally successful effort.
Citation Information
Rod P. Githens. "Approaches to Diversity in Educating for LGBTQ-Friendly Changes in a University"
Journal of Diversity in Higher Education
Vol. 5 Iss. 4 (2012) p. 207 - 221 ISSN: 1938-8926
Available at: http://works.bepress.com/rod-githens/41/