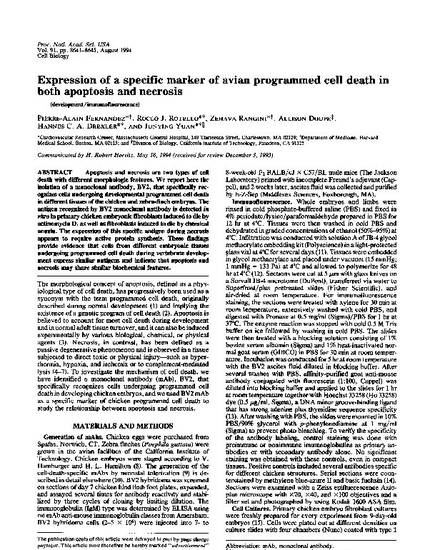 Article
Expression of a Specific Marker of Avian Programmed Cell Death in Both Apoptosis and Necrosis
Proceedings of the National Academy of Sciences
Publication Date
8-30-1994
PubMed Central® ID
PMC44662
Abstract
Apoptosis and necrosis are two types of cell death with different morphologic features. We report here the isolation of a monoclonal antibody, BV2, that specifically recognizes cells undergoing developmental programmed cell death in different tissues of the chicken and zebra-finch embryos. The antigen recognized by BV2 monoclonal antibody is detected in vitro in primary chicken embryonic fibroblasts induced to die byactinomycin D, as well as fibroblasts induced to die by chemical anoxia. The expression of this specificantigen during necrosis appears to require active protein synthesis. These findings provide evidence that cells from different embryonic tissues undergoing programmed cell death during vertebrate development express similar antigens and indicate that apoptosis and necrosis may share similar biochemical features.
Keywords
Apoptosis,
necrosis,
cell death
Citation Information
Pierre-Alain Fernandez, Rocco J. Rotello, Zehava Rangini, Allison Doupe, et al.. "Expression of a Specific Marker of Avian Programmed Cell Death in Both Apoptosis and Necrosis"
Proceedings of the National Academy of Sciences
Vol. 91 Iss. 18 (1994) p. 8641 - 8645
Available at: http://works.bepress.com/rocco_rotello/37/