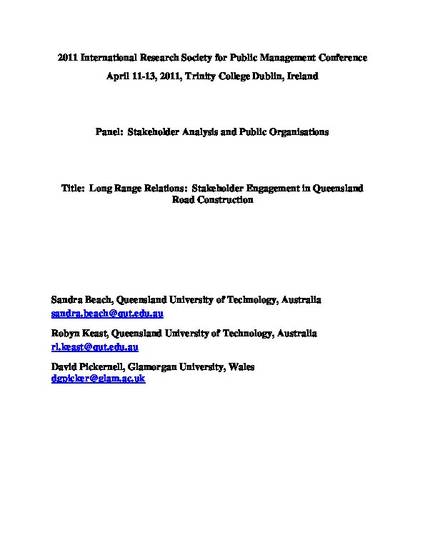 Presentation
Long range relations: stakeholder engagement in Queensland road construction
15th Annual Conference of the International Research Society for Public Management (IRSPMXV)
Document Type
Conference publication
Publication Date
1-1-2011
Abstract
This paper presents the historical and contextual background of road construction by state and local government in Queensland. It also highlights some key events that have shaped stakeholder participation in road infrastructure planning and delivery in Queensland. This synthesis was developed from a review of publications, organisational documents and interviews. To set the scene, the factors that shaped road delivery will be discussed.
Citation Information
Beach, S, Keast, RL & Pickernell, D 2011, 'Long range relations: stakeholder engagement in Queensland road construction', 15th Annual Conference of the International Research Society for Public Management (IRSPMXV), Trinity College, Dublin, Ireland, 11-14 April, IRSPM.